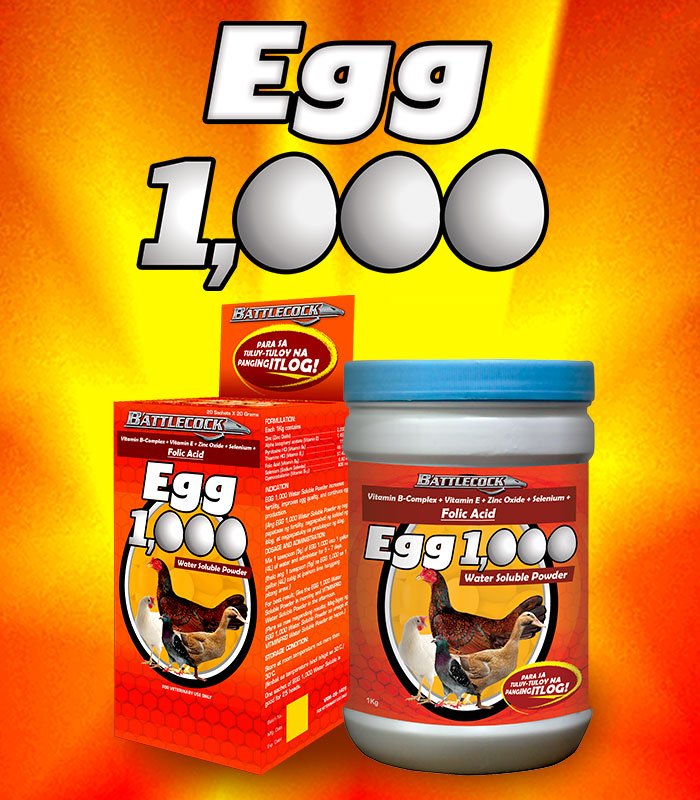 EGG 1000 - 20g BOX OF 20
4809016103110
---
20 SATCHET BOX
Egg 1,000 Water Soluble Supplement is the perfect way to ensure your hens receive the nutrients and vitality they need to produce high-quality eggs. This supplement is specially formulated with natural ingredients, such as calcium and selenium, that enhance fertility, improve egg quality of hens, and promote continual egg production so you get the most out of your flock! Each scoop contains a proprietary blend of trace minerals, vitamins, essential fatty acids, amino acids, enzymes, and probiotics that promote a stronger immune system and better overall health. With Egg 1,000 Water Soluble Supplement in their diet, your egg-laying chickens will live their best life - healthier for longer!

Features:
- All-natural ingredients
- Enhances fertility
- Improves egg quality
- Promotes continuous egg production
- Contains Calcium for strong shells
- Fortified with vitamins & minerals
- Contains Amino Acids for boosted energy levels
- Contains Enzymes & Probiotics for stronger immunity
Formulation:
Zinc (Zinc Oxide)

2,200 mg

Alpha tocopheryl acetate (Vitamin E)

1,452 mg

Pyridoxine HCl (Vitamin B6)

110 mg

Thiamine HCl (Vitamin B1)

48.40 mg

Folic Acid (Vitamin B9)

37.40 mg

Selenium (Sodium Selenite)

6.60 mg

Cyanocobalamin (Vitamin B12)

600 mcg
Dosage and Administration
Mix 1 teaspoon (5g) of EGG 1,000 into 1 gallon (4L) of water and administer for 5 – 7 days.